Digital Learning - DevTrend Opportunity
Make more money through digital learning as a developer.
Welcome to DevTrends.tech - Episode #005.
I want to thank everyone that has subscribed, I truly appreciate you all and hope to bring you some fire 🔥content to your inbox every Friday.
Exciting news! I wrote a book! It's all about helping developers land the job of their dreams, and how they can do it. It's called Ace Your Technical Interview but goes a lot deeper than just the technical interview. In the book I cover:
How to start a blog

Optimized you LinkedIn, and grow an online presence

How to structure your resume (with templates included)

How to prepare for technical interviews - with practice study guides and resources

Negotiate offers and MUCH more!
If you are a developer or know anyone that may need this book - please share! You can find the book using the link below!
Today we are going to talk about digital learning and how that is changing the game of development.
---
Digital Learning Opportunity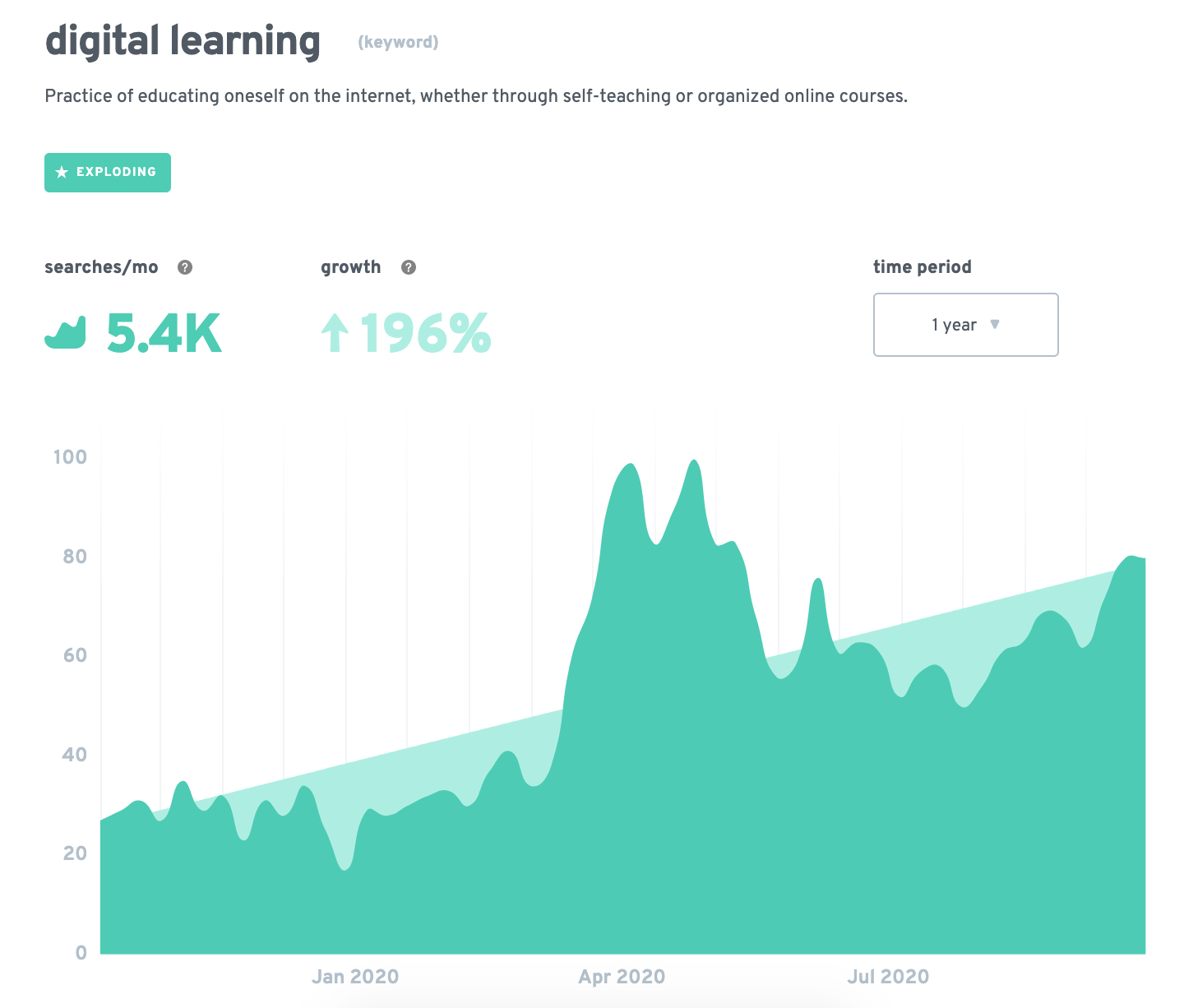 Market Background
Estimated Market Revenue: $375 Billion by 2026
Market Growth: 14% CAGR Growth to 2025
Key Players:
Teachable
Thinkific
Learnworlds
Kajabi
Podia
And many more..
Opportunity
Take .0001% of the online learning platform through the development skills that you already have. Online learning will continue to grow at a rate unlike ever before, take a slice out of the cake, and teach development skills!  The biggest growth in online teaching/learning is technology and science.
Summary
The online learning market is going to grow at a rate unlike any time before.  The anticipated growth is currently at 14% CAGR (compound average growth rate).  So think of compound investments, which is the growth model that experts predicting because the growth will continue to compound each and every year until 2026. 
This growth was clearly spiked by the pandemic around the world, but many experts think that it is here to stay.  After all, people have now adapted to learning online, and studies have shown that a lot are liking it more than in person.
Luckily for us developers, we are in the best spot to take a slice of this enormous pie.  Experts say these will be the fastest-growing online learning areas:
-          Mobile App Development
-          Social Media and Growth Hacking
-          AR and VR Application Learning/Development
-          AI Development/Machine Learning
-          Software Engineering
As developers, it can be easy to take even a super small slice of the piece and make thousands of dollars.  How can you do this? Well, let's take a deep dive into how.
Market Background
Online learning has been growing at a consistent rate for over the past 5 years specifically.  Over the next 5 years, it will grow at a rate double than the past couple of years.  Why?  Well, the COVID pandemic is definitely helping the curve and spike of online learning, but we will get back to normal at some point (hopefully).  So why the continued spike in online learning?
People are starting to realize that college may not be needed much longer, or at least it needs to change.  Colleges are getting more and more expensive and companies are no longer requiring degrees, especially for developers.  So what does that mean? More self-taught and courses will be in demand for people wanting to learn, and here comes you.
With college prices increasing, and courses teaching you how to code for anywhere from $500-$10,000, then it's almost a no brainer to go the online teaching route if you are a new developer.
The big trends leading online course learning around
Cost

Flexibility

Accessibility

Ease of use
Downtown Market Opportunity
This is a great opportunity for a niche market. 
By specializing your positioning to a particular type of service, you would be able to hyper-focus on a specific group of people, find them easily online, and incorporate niche review sites that only their niche will care about.
The more niche you go, the better you will actually do as a solopreneur.  Many new developers or wannabe developers will end up finding something they want to do and learn that specific skill.  So if they have to choose between "Learning Python" and "Learning Python for Web Development" they will choose the web development course over the generic.  This will also help you create that more exclusive audience that really values you and your online course.  And if the course is great, you will get free traffic because typically people will start to refer friends if they like you, the community, and the course.
Like I mentioned above, if you have a skill set that is AR/VR, mobile app development, AI or machine learning definitely go with that.  Those will be trending at a very high rate over the next years. If you're a developer that doesn't have those skills there are a couple of options you could do:
1. Learn about one the topics and document your journey
People love this when you build in public. They enjoy seeing the struggles and HOW you got around them, what you're building and how you are learning. This would be an awesome way to build that community – and then once you are done learning, create the course for your audience and you have free sales.
2. Teach them of development tools – which you know
Just because those are the areas with the most projected growth, doesn't mean that web development, WPF development, or even C++ development is on a downward trend.  All programming languages are trending up and someone will want to learn it.
My tip for being niche is using the programming language that you will teach + whatever field that you will be programming in.  For example, JavaScript for Web Developers, Python for Data Analysis, Python for Web Development, etc.  You can continue to go more specific, and may even help you cut out a better audience, but I would recommend starting with at least your programming language + your field of teaching.
USP (Unique Selling Point)
Your unique selling point is within the course. 
Tell them how they will be changed after the course.  Will they be able to land a job as a programmer, will they know how to develop a website, have a portfolio to show to employers?  Whatever it is – make sure you outline it so they know what they are getting. 
A great way to put this out in front of them is to have "By the end of this course you will be able to….".  That will be your USP to them and how to attract them to buy. 
Next Steps
If you want to pursue this idea the following steps should be taken before starting:
1. Create an audience
Building an audience is a great way to start with easy sales.  If you have an audience that follows you, and trusts you have an authority figure in the development space, then it is easier to sell an online course.  
It becomes very easy to pre-sell your course.  Why would you want to pre-sell a course? To validation.  If you think you have a great idea and ask people to sign up and no one does, well then it wasn't a great idea after all.  Then you come up with another idea, ask them to give you $10 down, and then it will be another X dollars when you release the course and you get a lot of traction then you know that the course idea is a good one and to move forward.
2. Build the course without an audience
Yes, you can also build a course without an audience, but it will be a little bit harder and you will most likely have to spend money on promotions and Facebook Ads, or both.  That is fine if you have some money you want to spend, and you don't have to take the time to build an audience which can be tough nowadays.
If you don't want to build an audience, pre-selling is another great idea.  Here are a couple of quick tips on how you can pre-sell your course without an audience:
- Build an email list, and then ask them if they are interested in a course.
- Post on Reddit that you are going to create a course and if you are interested to DM or email you.
- Post in Facebook groups, if anyone would be interested.
- Run Facebook ads asking for users to be a part of a free beta course.
Once you have validated that you have a good course through pre-sales, start building and send it out to them once completed.  But now what? Ask for referrals from the people who bought it pre-sale and then also you will need to start running promotions and Facebook Ads to get more traction.  
3.  Re-use technical audiences for another course
If you created a course for Python Web Development Beginners, create a Python Web Development Course Advanced, and then target the same users who took your beginner course.  Another way to add revue without spending money on promotions and ads.
---
What did you think?
I changed it up again! I got a lot of emails last week about what everyone wanted and reached out to some of my developer friends. The biggest thing I got back is I need to teach you something valuable or how to make more money.
I went to make more money. Since development is huge, it's hard to get an audience that would listen to developer trends about backend stuff when they were a front end dev and vise versa. So I went with a different approach and this is how we will be moving forward.
Each week, I take a trend in business and will break down the market, and then show you HOW you as a developer can make money in the market. Whether that is creating a course like this, developing a product, starting a company, or anything in between.
If you like this format, that is great because we will be using this moving forward. If you loved it, share it please - it will help me out a ton.
See you next Friday!
Questions?  If you have questions or comments, reply to 📥 devtrends@outlook.com 📥 and I will get back with you!