Lori blocks the noise - DevTrends
How Lori (Lorrita) is changing the game in Discord.
Welcome to DevTrends.tech - Episode #004.
I want to thank everyone that has subscribed, I truly appreciate you all and hope to bring you some fire 🔥content to your inbox every Friday. In order for this newsletter to grow, and ultimately give you more content that's awesome, I would appreciate two small things. Follow me on Twitter here, and share this newsletter (button below). That's it, I won't ask for anything else, it only takes you about 10 seconds, and I would appreciate it.
Okay, that part is out of the way. I'm bringing some different heat to this newsletter and I will have a poll at the bottom so you guys can let me know if you hated it or loved it - either way won't hurt my feelings just some ideas that you guys brought up to me.

Let's dive in.
---
💻
Dev Trends
Most of my subscribers are dev's, and as a developer, we are currently in a discord group or at some point were apart of one. Discord groups have grown over the past 2 years and have created communities in development, trading, and other niches.
What is Lorrita? Loritta, known as Lori, is an automated bot for managing these Discord servers. Lorrita will block out the noise (spam) in the discord channels so your subscribers won't get punished with spam that they don't want to see from self-promoters.
Why Lorrita? From the graph below, the past year this bot has grown like a wildfire. Why I think it is important for us devs to know about is because Loritta is a completely open-source product. Check it out here.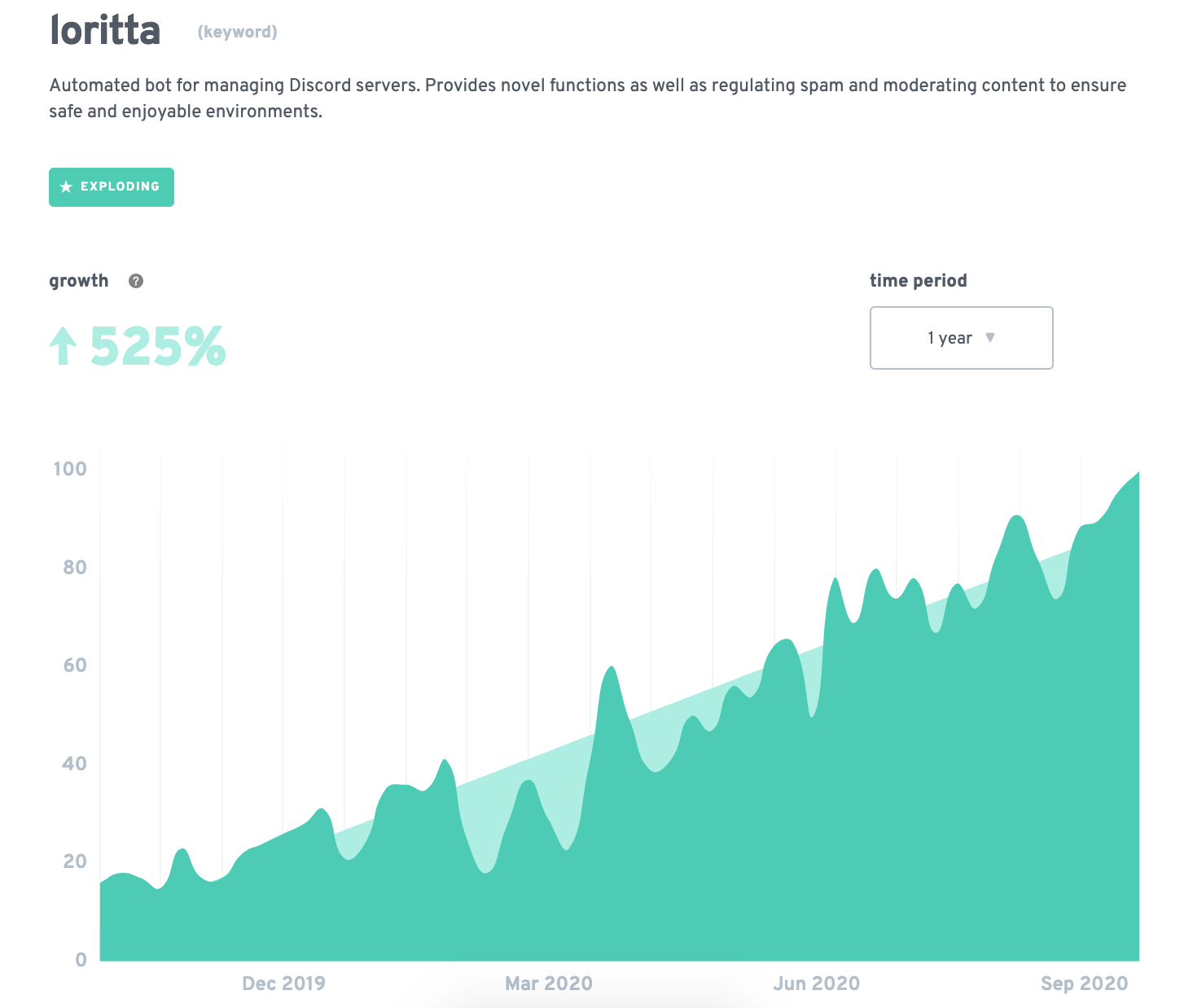 If you're looking for a side project, why not expand off of Lorrita and create your own product? This could be applied to Microsoft Teams, Skype, and even Zoom if it was work-related.
Here are just a couple of development ideas that could be created off of Lorrita:
When a common question is asked in the group, Lorrita answers it.

Automated posts or sharing of content.

Training purposes. New users comes to your discord and joins, have an extension where it walks the new users through what the channel is about, what is acceptable, etc.
---
🚀
Tech Startups
Braintrust is a networking platform for freelance design and programming talent. It launched just over the summer during COVID and recently just got $18M in new funding. Braintrust is a San Fransico based startup and wants to change the game in freelance work.
First, Braintrust only charges the companies doing the hiring — freelancers won't have to pay to join or to bid on a project, and Braintrust won't charge a fee on their project payments. Also, the startup is using a cryptocurrency token that it called Btrust to reward users who build the network - pretty cool idea.
According to Jackson, their CEO & founder, most of the talent on the platform consists of career freelancers, but with many people losing their jobs during the COVID-19 pandemic, "we've seen an influx of talent coming looking to join the ranks of the freelancers."
I think this is great for the development freelancing community and freelancing in general. It always sucks finding a great client on UpWork and having to pay them a fee to only cut your losses. I really like BrainTrust and think it will do very well.
---
🎁
Jobs
Each week I scour the web looking for the best remote developer jobs for the newsletter. I look for 3 things when looking for the "best" jobs out there:
The company - is a good, sustaining company that I would want to work for

Perks - as a dev I love good work perks, paid time off, reimbursements, etc.

The job - does the job description stand out to me, if the company put time into the job description the company is worth applying to.
Top 5 Jobs I found this week
Senior Software Engineer, Slack
Software Engineer, Backend, Hotjar
Software Engineer, All levels, Olo
Senior Observability Engineer, Delivery Engineering, NY Times
Software Engineer Sr., TrueCoach
---
What did you think?
I changed it up and had three sections that I would keep moving forward.
The first section would still be DevTrends, it would be a little bit shorter and more concise than the previous three newsletters but definitely still have that.
The second section would be about tech startups. I love reading about new tech and would love to share this with you all.
Third would be jobs. I know some devs are always looking for new jobs or just like seeing what it out there. I'm starting with 5 if you guys want more let me know!
That would kind of be the style of the newsletter going forward if you liked it!
Let me know - it's only 1 question (yes or no) and would let me know what you guys like!
---
That's it for this issue. If you enjoyed it, please do me two favors: Share it, or share it.
Questions?  If you have questions or comments, reply to 📥 devtrends@outlook.com 📥 and I will get back with you!