Self Taught Devs getting their shot - DevTrends
Welcome to DevTrends.tech - Episode #003.
If you read our first newsletter, you know that there are more open developer jobs than there are developers to fill them. In 2020 currently, there are over a million, and by 2025 there could be over 2 million positions that could be unfilled because the skill force isn't there.
That means 2 things, companies may start lowering their standards for entry-level developers aka taking their risks on self-taught developers. Secondly, if you are a developer currently the next 5 years are looking great for you because you will have experience developing with over 2 million developer jobs to be filled - if you don't where you are, just leave and you will be able to land a job.
Let's dive into the rise of self-taught developers in the tech space.
---
Self-Taught Developers Getting Their Shot
Despite the common perception of the tech industry, there's a gap in supply-demand for software development. As the price of university rises across the globe, fewer people are turning to expensive degrees in computer science. The barrier to entry for software developers is predicted to lower in the next few years to make space for self-taught developers. Also, some developers predict that there will be an increase in LCNC (low-code, no-code development) for enterprises to innovate without the need for CS degree-holding programmers.
We found a poll that interviewed self-taught developers on what they learned and how they learned it.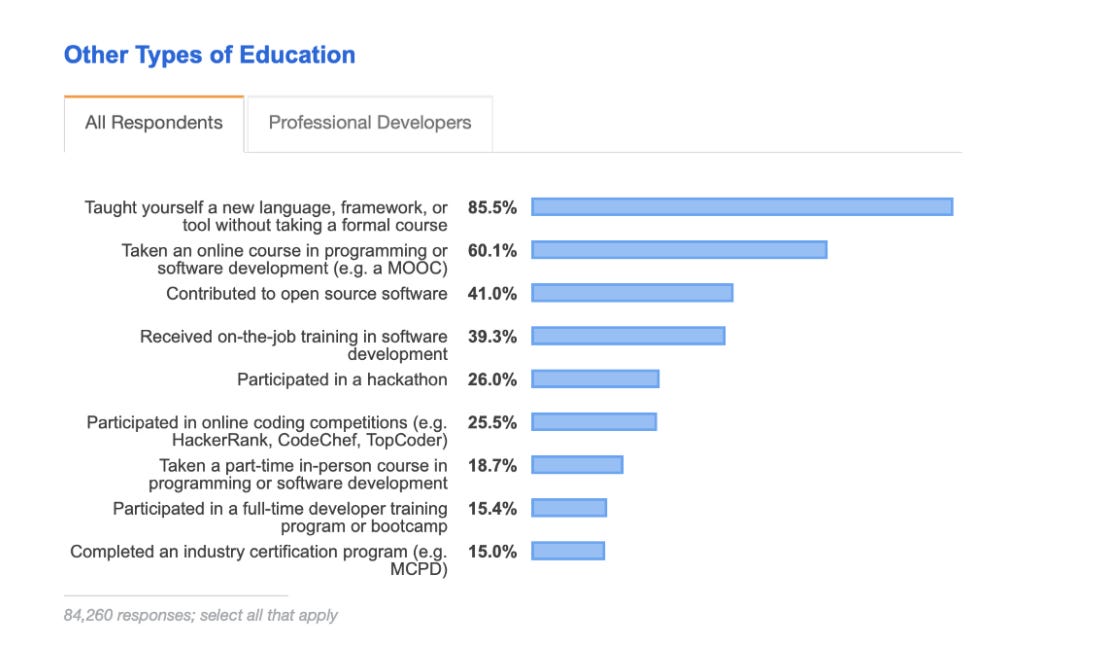 As we can see, surprisingly most people learned all by themselves without taking an online course. Second, behind 100% self-taught was learning through an online course. I would have thought most people who were self-taught would have taken the online course route now that there is such easy access to a variety of online courses.
The next piece that sticks out for me is 40% of the people learning code received on the job software development training. To me, this means that a lot of companies are already giving self-taught developers their shot in their organization. This is great news for self-taught developers.
Online learning platforms are one reason why the industry is shifting. Educative provides university-level courses for developers of all levels to level-up their coding skills and tackle new languages at a low, stress-free cost. The goal for 2020 is to empower people around the world to join the world of development without the financial burden of the university.
Google recently came out and said that they no longer require their applicants to have a CS degree but rather a passion to code with a strong portfolio. Whether you agree with this or not, it is definitely happening in the tech industry. Closely following behind was Facebook, Twitter, and other major tech companies.
We found another study that kind of shocked us even more.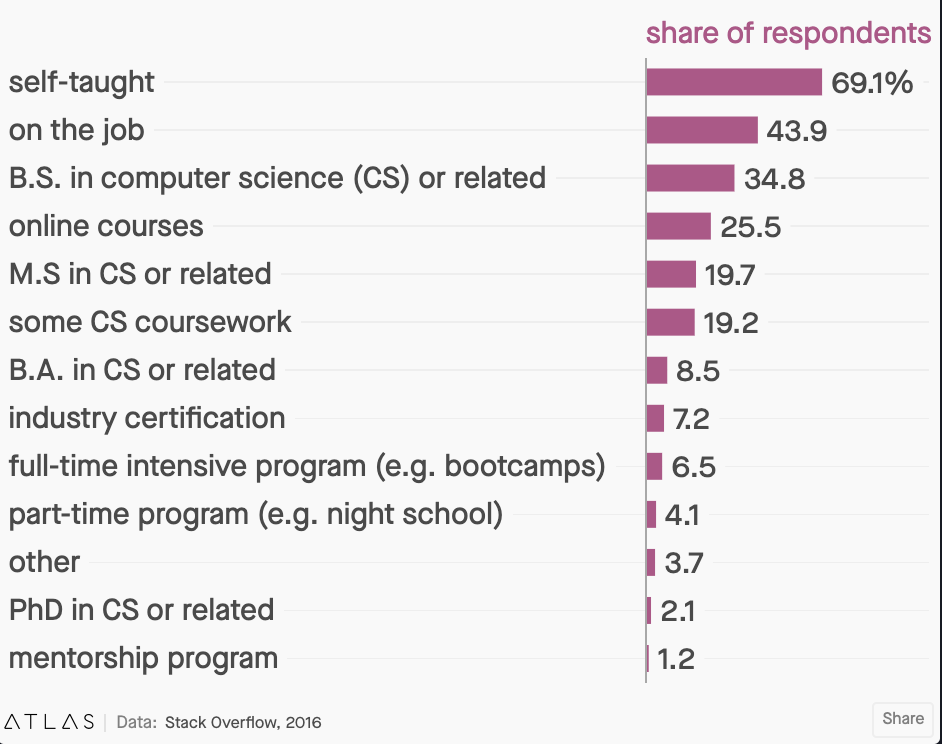 This was in 2016! Almost 70% of developers said that they were self-taught. This was from StackOverflow and I wasn't able to get a chart with anything newer than 2016, but I can only imagine that number has increased since then and has gone over 70%.
Self-Taught Development is a Skill
To draw in from the graph above, self-taught development is a skill within itself.
Even if you have a CS degree or learning through a Bootcamp, at some point in your development career you will most likely have to change either a language or a complete tech stack and you need to be able to learn and learn quickly.
It's truly a skill to have and I can definitely see why employers are valuing it.
---
That's it for this issue. If you enjoyed it, please do me two favors: Share it, or share it.
Questions? This was a ton of information this week. If you have questions or comments, reply to 📥 devtrends@outlook.com 📥 and I will get back with you!